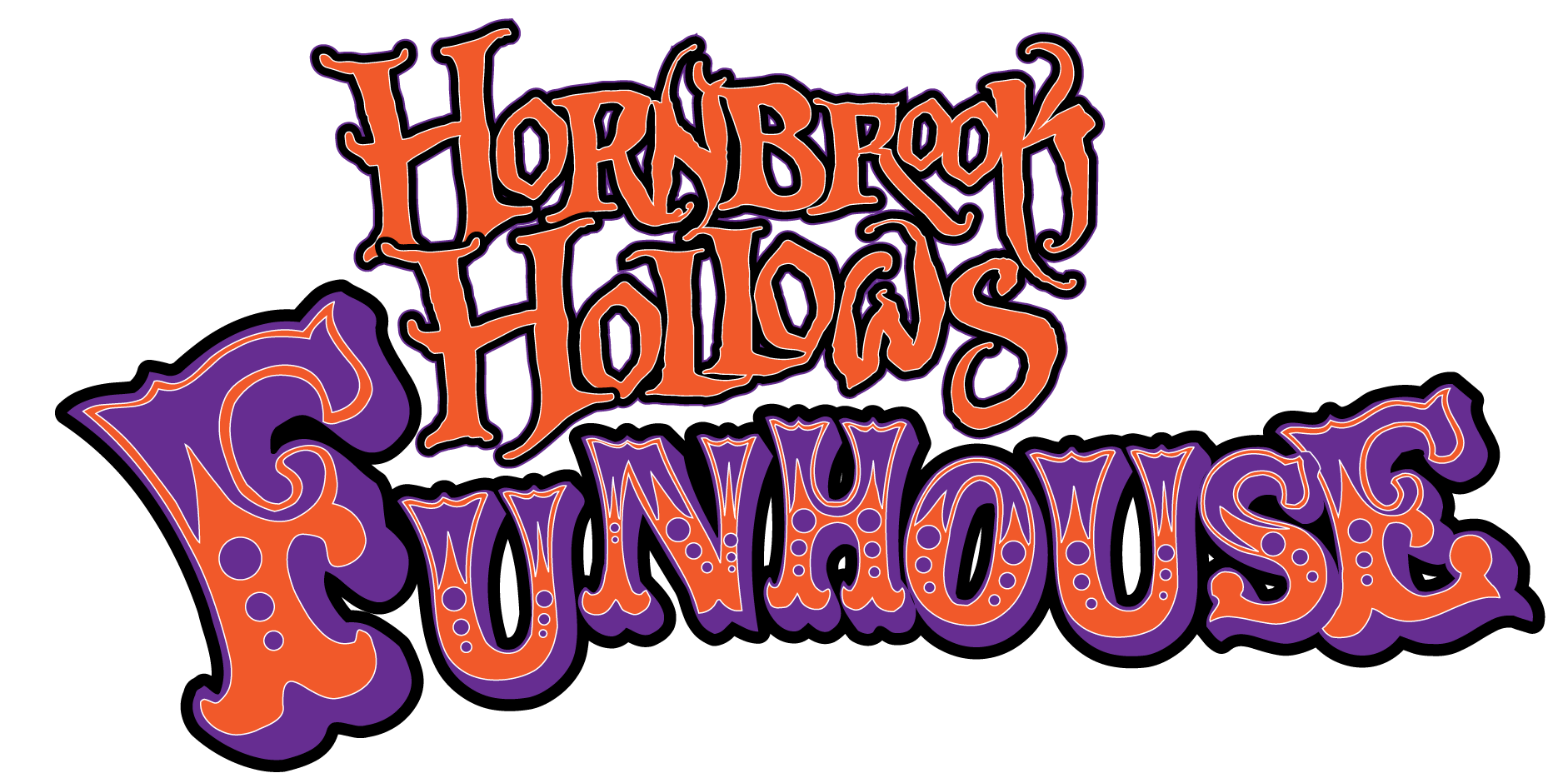 NOT Your Average Party Room! 
We have parties for all ages! Not only do we offer birthday parties that are OUT OF THIS WORLD…
We have room rentals to host your private events or company team building parties!
9818 105 Street
Grande Prairie, AB
FUN FOR ALL AGES!
SUMMER HOURSOF OPERATION
Monday: CLOSED
Tuesday: 4pm to 10pm
Wednesday: 4pm to 10pm
Thursday: 4pm to 10pm
Friday: 4pm to 1030pm
Saturday: 12pm to 11pm
Sunday: 12pm to 8pm
Email Us For  Youth Groups, Corporate Rentals & School Bookings
NOW BOOKING 2023 PRIVATE CHRISTMAS FACILITY RENTALS - email to book
Attending A Party?
Skip the lines, fill in the online waiver online for each party guest attending your party!
*Complete your waiver once, and it will be active for one year! Once it expires, we can reactive it upon request!
Ready To Book?
Book Online! Add your party guests and get ready to PARTAY!
HORNBROOK HOLLOW'S FUNHOUSE
PARTY PACKAGES SUMMARY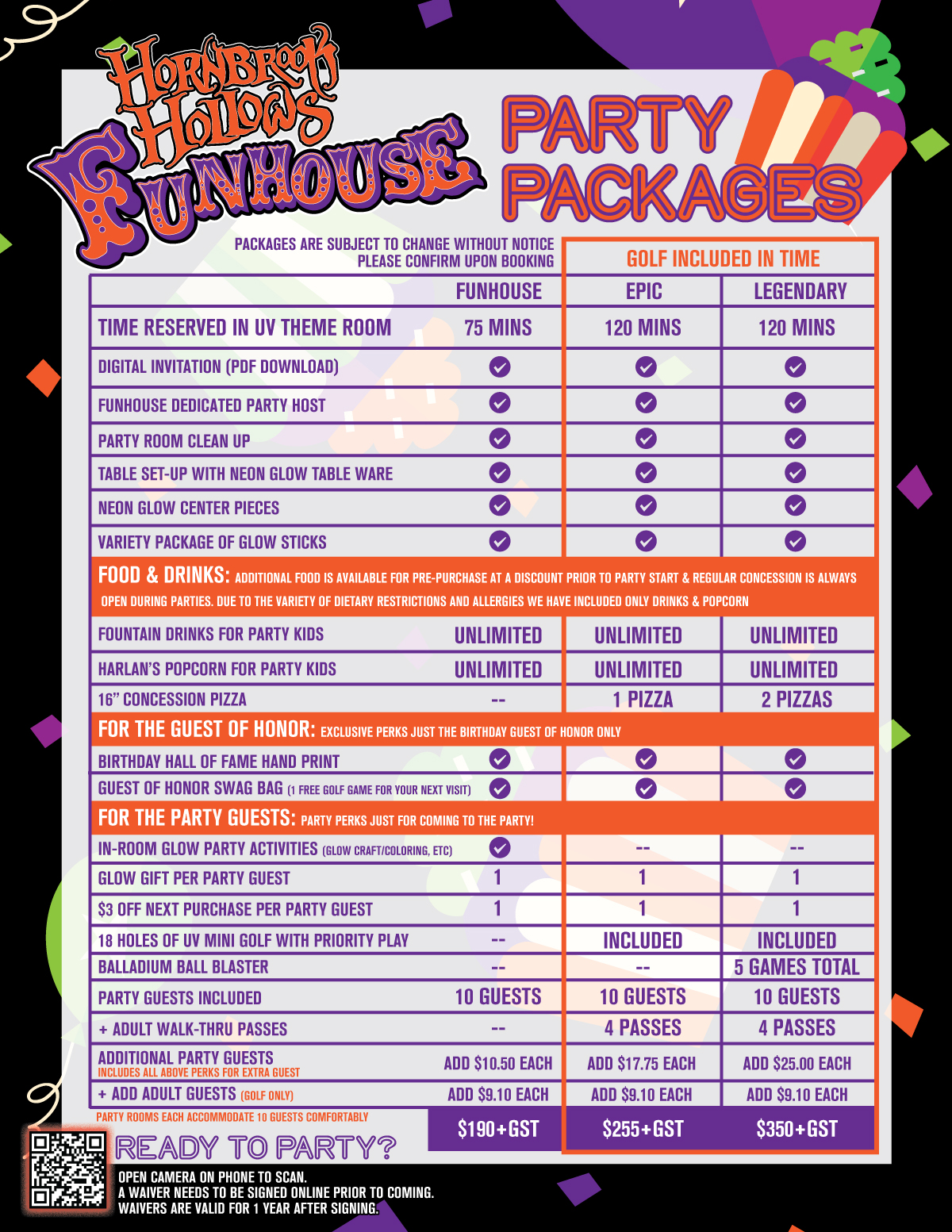 NO STRESS
Just bring the kid, the cake and the camera, and we will take care of the rest!
If there is anything to make your experience better please let us know!
5 STAR STATUS
Your child is the star! We want them to feel like a "5 Star Stunner"
We appreciate any special requests for children with disabilities or special needs. 
GUEST WAIVERS
All party participants must have waived signed before coming to The Funhouse.
*Waivers are active for 1 year.
NO OUTSIDE FOOD
EXCEPT THE CAKE!
We have a full concession open during birthday parties. But feel free to pre-order your extras. 
FUNHOUSE PARTY HOST
Each party will have a designated Funhouse Staff Party Host to keep everything flowing in a friendly and efficient manner.
BOOK NOW
In order to secure your booking, 50% payment must be made IN-FULL at time of booking.
*Your booking will be NON-REFUNDABLE 2 weeks of party date.
ADMISSIONS
PARTY PACKAGES ARE FOR 10 PEOPLE.
NEED MORE PEOPLE ADDED TO YOUR PARTY?
ADULT – GOLF  $9.10+GST

PER ADULT PARTY GUEST WANTING 
WALK-THRU  $4.00+GST
(4 TICKETS INCLUDED WITH ALL PARTY PACKAGES)
PER WALK-THRU PARTY GUEST (Not Playing)
FOOD
OUTSIDE FOOR ALLOWED:
CAKE (REGULAR OR FROZEN) AND VEGGIE/FRUIT TRAY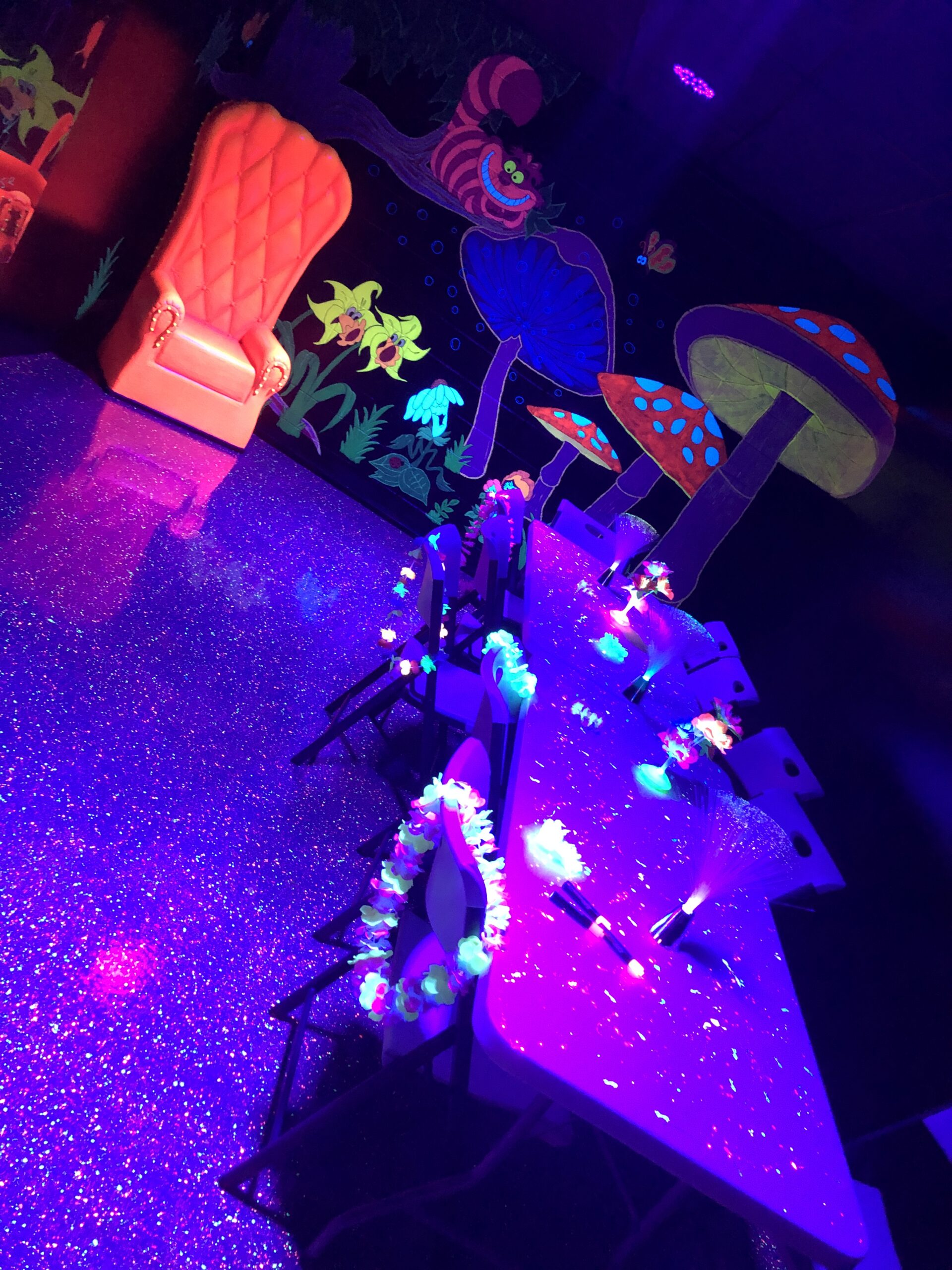 want more ADD-ON ITEMS?
EXTRAS
TWINS EPIC PARTY  $9.75
+GST


EXTRA SWAG BAG FOR SECOND GUESTS OF HONOR       

 
TWINS LEGENDAY PARTY  $15.50
+GST


EXTRA SWAG BAG FOR SECOND GUESTS OF HONOR       

 
FUNHOUSE TSHIRT  $18.75
+GST


COLORED LOGO, JUST LIKE THE FUNHOUSE STAFF       

 
Loot bags  $3.00+GST

PER bag/guest – let us worry about it!