Here is a list of the most asked {with answer}
FUNHOUSE LOCATION & HOURS: FAQ's
What is Hornbrook Hollow Inc.?
Hornbrook Hollow Inc is a local family owned business.
Started off as a family ran Halloween Haunt in 2015.
The difference between THE FUNHOUSE and THE HOLLOW HAUNT.
Simply put, if they were people: They are sisters born from the same mother (Hornbrook Hollow Inc.), but have 2 totally different personalities. Hornbrook Hollow – The Haunt AKA The Hollow, (over by Grovedale) was born first, love Halloween, is into dark and creepy stuff, generally in flight/fight node, laughs when people are scared of her and isn't everyone's cup tea.
Hornbrook Hollow's Funhouse AKA THE FUNHOUSE (9818-105 St, Grande Prairie), loves the magical and mystical stuff, is creative and pretty chill, and is all about doing things with the WHOLE family, baby to grandma. OH, and she has cotton candy!
Is the Funhouse Scary??
The Answer – No! the funhouse is based for families of all ages! The Funhouse is "The Friendly Sister" to our Hornbrook Hollow Haunt out in Grovedale.
Can be overwhelming if you aren't used to UV GLOWING!
There is NO flashing/Strobe lights or people jumping out at you…. Just upbeat radio music and a good time for all!
What days are the busiest?
Saturday is the busiest! – Afternoons & Evenings
Friday – Evenings are busy but if you come after school it is a great time to come and experience it!
Monday – Thursday: Afternoon & Evenings have very little wait times! Perfect for a family or couples date night!
Do I HAVE TO BOOK AN APPOINTMENT?
First come first serve!
Come on down and play our 18-hole Mini Glow Golf – Test your wits with 8 Balladium cannons!
*Large groups please make sure you all come at one time to avoid wait times waiting for your group to play.
Party Room Rentals, Birthdays and Monday Madness Rentals MUST be PREBOOKED and PAID in advance. 
Is there a wait? If so, how long?
During Peak Hours:  Wait times typically do not exceed 15 minutes. Come Walk in and play! 
However, we encourage you to fill out your waivers prior to coming will speed up this process!
Do you have food & drinks?
Full Hot & Cold Concession!
Hot Dogs, Pizza, Mini Donuts, Popcorn, Corn dogs,
Cotton Candy, Snacks & Candy Bars
Pepsi Products (Fountain, Cans & Bottles)
Concession has a variety of items available.
Grab a full pizza for the family or by the slice, hot dogs, corn dogs, popcorn and GLOWING Cotton Candy! Oh.. and you can't forget the mini donuts… It's like going to the fair!
Chill with the UV lights over our picnic style tables, refuel for another REPLAY!
Why is there a waiver?
Due to our facility having our Ball Blaster Balladium Cannon Room we are required to have all patreons sign a waiver for our facility.
Waivers are valid for 1 year after signing and are valid for all events in our facility (Birthdays, etc)
Parents need to sign a waiver for all kids under the ages of 18.
Party Rooms How do I book it?
Booking is online! You can book automatically online.
Choose your preferred package and get ready to PAR-TAY!
Do bookings need to be paid at the time of reservation?
YES! All "events" (Monday Private Facility Rental + Birthday Parties) MUST BE PAID in full at the time of booking. If event is cancelled, deposit may be applied to another event up to 1 years from originally scheduled event date. NO Exceptions or refunds.
9818 105 Street
Grande Prairie, AB
FUN FOR ALL AGES!
SUMMER HOURSOF OPERATION
Monday: CLOSED
Tuesday: 4pm to 10pm
Wednesday: 4pm to 10pm
Thursday: 4pm to 10pm
Friday: 4pm to 1030pm
Saturday: 12pm to 11pm
Sunday: 12pm to 8pm
Email Us For  Youth Groups, Corporate Rentals & School Bookings
NOW BOOKING 2023 PRIVATE CHRISTMAS FACILITY RENTALS - email to book
18-hole UV GLOW MINI GOLF PRICING
GOLF PRICING:
LIL'

KIDS  $10.50+GST 
Ages 8 and UNDER       replay (Same day) $7.35
BIG

KIDS  $13.00+GST 
Ages 9 and UP            replay (Same day) $9.10 
SENIORS  $9.00+GST 
Ages 65 and over       replay (Same day) $6.30 
WALKTHRU  $4.00+GST 
No Play // walk through mini golf only 
FAMILY OF 4         
$42.00+GST 
2 adults & 2 kids (UNDER 16) in the same family 
BALLDIUM – BALL BLASTER CHALLENGE
LOST IN SPACE
PRICING
1 Cannon

  $3.00+GST
PER 3 MINUTE BATTLE         
4 Cannon PASS
$10.00+GST
BUY BULK & SAVE         
NO STRESS
Just bring the kid, the cake and the camera, and we will take care of the rest!
If there is anything to make your experience better please let us know!
NO OUTSIDE FOOD
EXCEPT THE CAKE!
We have a full concession open during birthday parties. But feel free to pre-order your extras. 
FUNHOUSE PARTY HOST
Each party will have a designated party host to keep everything flowing in a friendly and efficient manner.
BOOK NOW
In order to secure your booking, 50% payment must be made  at time of booking.
*Your booking will be NON-REFUNDABLE 2 weeks of party date.
5 STAR STATUS
Your child is the star! We want them to feel like a "5 Star Stunner"
We appreciate any special requests for children with disabilities or special needs.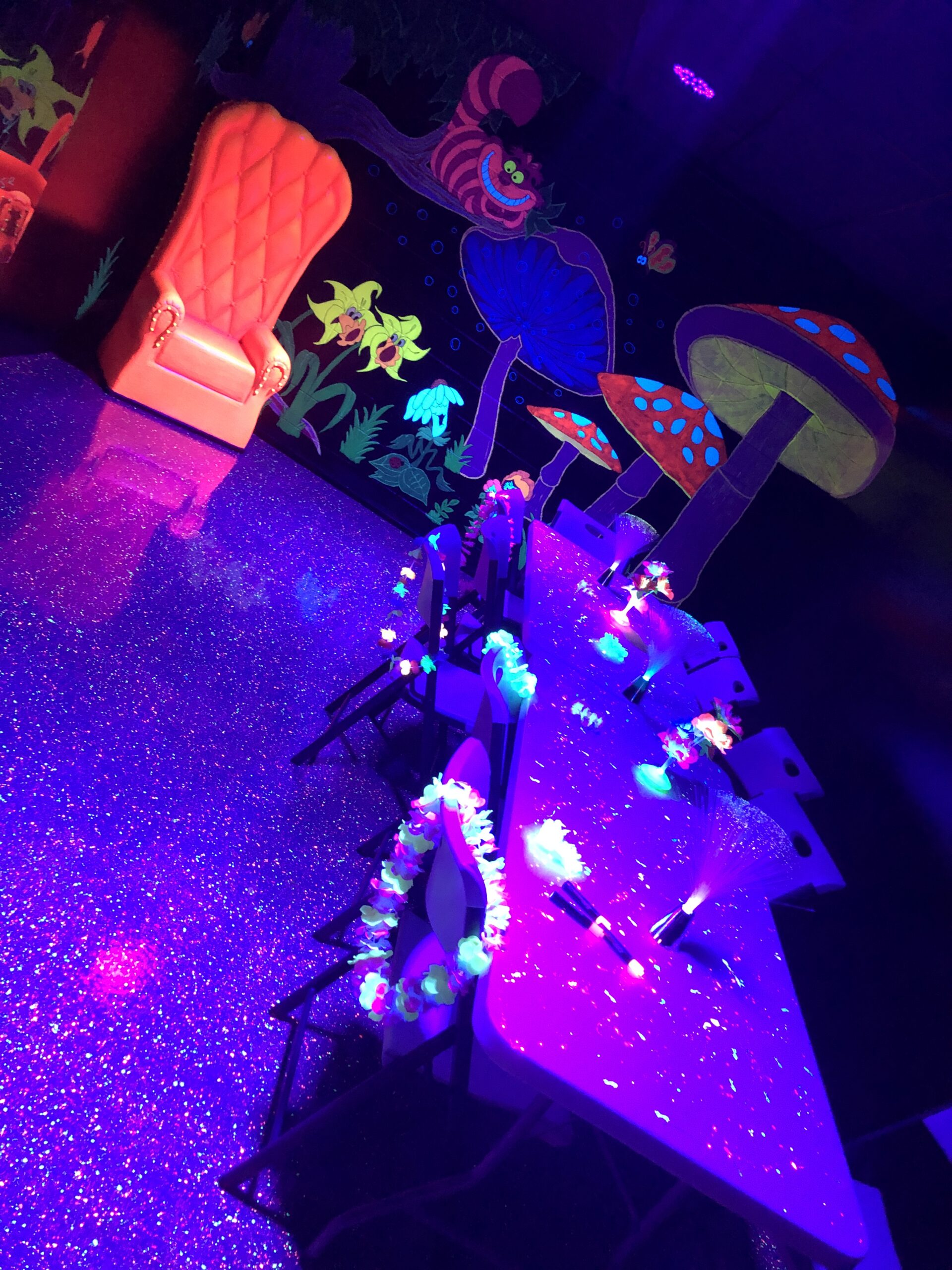 Bring your inner "Alice" To life with this UV themed room for your next party! 
Host your own very-merry-unbirthday tea party here!
Ooga Chuka Oooga Oooga Chukka! It's your birthday? Come to the Tikki room for your birthday treats!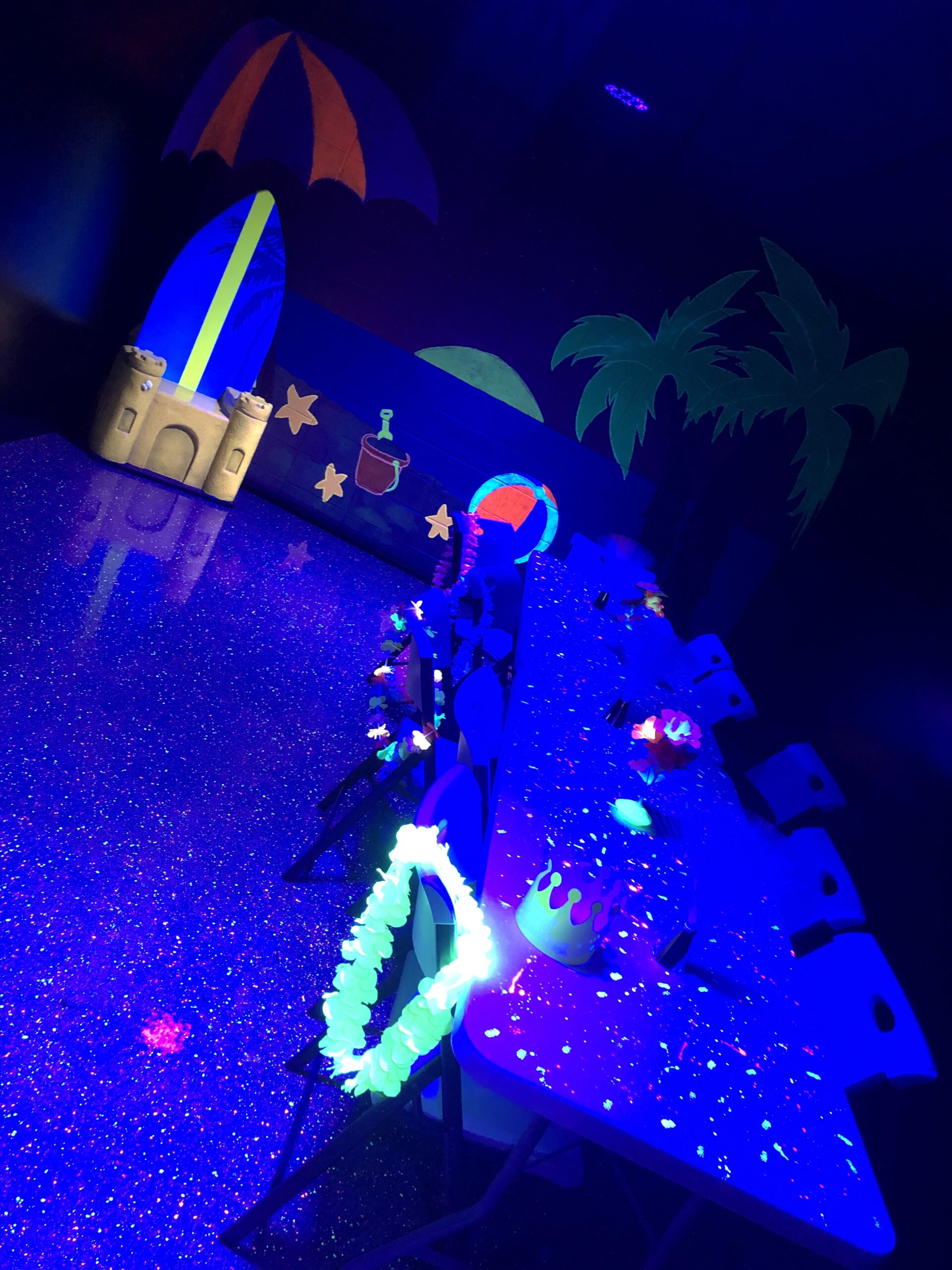 Thinking of sandy beaches to build sand castles and dip your toes in the ocean… let's work on your "glow" and get the party started!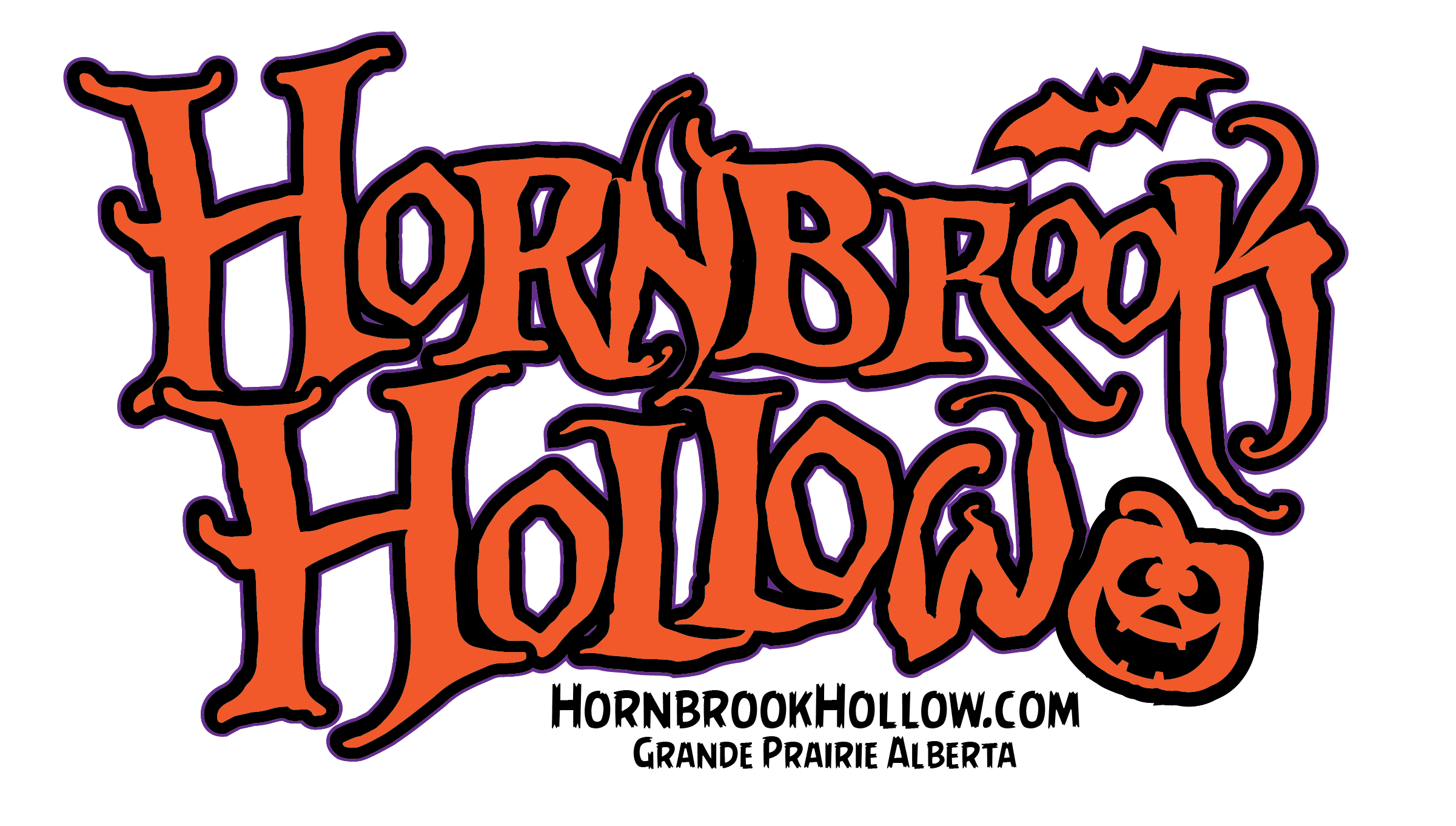 Where is this located?
The Haunt is completely seperate from our funhouse!
The Haunt is located in Grovedale. 
Family ran haunt – Grovedale. Turn right onto Two Lakes Highway (HWY 666). Go 1km to Bald Mountain Road (RR 65), go 6km to TWP 692. 3km to black gates on right.
780-933-6330